Gezond proteïne-ijs recept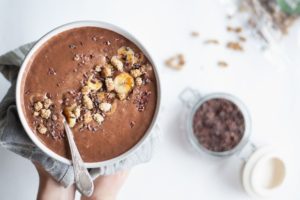 Waar of niet waar: . . .   ?
Gezond eten moet saai zijn. ?
Niet waar !
Je kunt je favoriete lekkernijen met mate eten en je nog steeds gezond voelen.
Of je kunt uw favoriete lekkernijen aanpassen en je altijd goed voelen over je dessertkeuzes !  IJs is een favoriet dessert voor de meeste mensen, maar helaas zit het vaak vol met suiker.
Wat als we je vertelden dat je in plaats daarvan een gezondere versie kunt maken die vol zit met eiwitten?
Zo kan je een eiwitrijk dessert kunt maken, dat slechts vier ingrediënten nodig heeft ! Eiwit is een van de belangrijkste macronutriënten om je lichaam van brandstof te voorzien. Bouw droge spieren op en ondersteun uw immuunsysteem met onze bestverkopende eiwitformule ! *
Geniet van dit gezonde eiwit-ijsrecept:
Ingrediënten:
► 2 gesneden bevroren bananen
► 2-4 eetlepels ongezoete amandelmelk
► 1 maatschepje PRO-TF® Vanillecrème of Chocolade
► Donkere chocoladeschilfers
Instructies:
► Voeg bevroren plakjes banaan toe aan je blender.
► Voeg amandelmelk toe en giet min of meer, afhankelijk van de gewenste dikte.
► Voeg PRO-TF toe.
► Meng tot de gewenste consistentie.
► Voeg pure chocoladeschilfers toe.
Eet smakelijk !
Eten is brandstof en eten om je lichaam van brandstof te voorzien kan nog steeds heerlijk en leuk zijn ! Het binnenkrijgen van dat extra eiwit komt alleen uw fitness- en gezondheidsdoelen ten goede. *.
Probeer dit heerlijke eiwitvrije ijsrecept ! We willen graag weten wat je ervan vindt!
Product ProTF :
Lees de gebruiksaanwijzing in het nederlands op de verpakking.
* Uit de website van 4Life – disclaimer :
* THE PRODUCTS ARE NOT INTENDED TO DIAGNOSE, TREAT, CURE, OR PREVENT ANY DISEASE.
* De 4Life producten zijn niet bedoeld voor diagnose. behandeling, genezing of ter voorkoming van ziekte.
* De verklaringen zijn niet beoordeeld door de - USA - Food and Drug administration.
Spijtig genoeg mogen wij in het kader van de Europese wetgeving i.v.m. gezondheidsclaims niet vermelden aan de consument, waar 4Life producten, Colostrum en andere producten etc. op toegepast kunnen worden.Maar ( telefonisch ) vragen beantwoorden kan wel.
Voedingssupplementen mogen niet worden gebruikt als vervanging voor een gevarieerde uitgebalanceerde voeding en een gezonde levensstijl.
De aanbevolen dagelijkse dosis niet overschrijden.
Pro TF container buiten bereik van kinderen houden.
06/20
4Life engelse tekst
---
Healthy Protein Ice Cream Recipe
True or False: . . . Eating healthy has to be boring. False ! You can have your favorite treats in moderation and still feel healthy.
Or you can modify your favorite treats and always feel good about your dessert choices! Ice cream is a favorite dessert for most people, but unfortunately, it's often full of sugar.
What if we told you that you can make a healthier version that is full of protein instead?
We want to share how you can make a protein-packed dessert that requires only four ingredients! Protein is one of the most important macronutrients for fueling your body. Build lean muscle and support your immune system with our top-selling protein formula!*
Enjoy this healthy protein "ice cream" recipe:
Ingredients:
► 2 sliced frozen bananas
► 2–4 tbsp unsweetened almond milk
► 1 scoop PRO-TF® Vanilla Cream or Chocolate
► Dark chocolate chips
Instructions:
► Add frozen banana slices to your blender.
► Add almond milk, pouring more or less depending on desired thickness.
► Add PRO-TF.
► Blend to desired consistency.
► Add dark chocolate chips on top.
Enjoy!
Food is fuel and eating to fuel your body can still be delicious and fun! Getting in that extra protein will only benefit your fitness and health goals.*
Try this delicious no-churn protein ice cream recipe and tag us! We would love to know what you think!